The accessories make a difference to any look we choose to wear, it only takes one right to renew the usual clothing!
And because the journey through the fashion trend this fall / winter 2015-2016 has just started, including folk notes, colors, patchwork, fringes, studs, chains and precious skins, we have to do is let ourselves be carried to find out what are the must of next season to wear, why not, right away at the first change of season.
Among the trends to report we find the handbag and purses tone on tone, in pendant with clothes or cowgirl version covered with camel-colored leather, while the feet are the fashion loafers with tassels or shoes completely covered with fur, the boots, alongside the sensual cuissardes with thin heel or roughly squared. fantasies various and fur, not to forget the long leather gloves to wear with sleeveless dresses. Here are all the trends for next season:
Bags
The bags are one of the most used accessories and also one of the most beautiful to show off with each oufit, as we have already mentioned among the trends for next season are: the bags in pendant, identical to dresses, skirts or coats, mingle perfectly with a "chameleon" effect.
Another of the proposals that have paraded on the catwalk is definitely the trend of handbags fur, entirely covered with metallic details and the most varied forms, characterized by a press in shades of yellow, red and blue. Any ideas to be copied if you practice with sewing, for an original result, trendy and, why not, even witty!
Another trend is the bags cowgirl, in dappled, the animal version revisited for winter. Simply-shaped bucket or hand and the colors of beige and white, are very chic when paired with ladylike coats or overcoats camel.
These models are alternated, with extreme ease to many in reptile print bags, declined mostly in a color palette that varies by more intense shades of color and vibrating, such as the forest green, burgundy, blue, up to the natural colors of the skin.
Shoes
If you followed the recent photo on Instagram of fashion blogger Chiara Ferragni , you may have noticed its striking footwear composed mainly of fur: shoes with fur that can be slippers, moccasins and sandals with lists and covered heel. They wear it with a skirt or with pants.
But it is clear that the effect will not be simple or informal. Well, for sure it will not cold during the winter!
They are a great classic of the men's fashion loafers with tassels, can give character to the most feminine of complete. Tapered and with medium heel, solid color on formal occasions, and with a perfect two-tone maxi fringe instead of a tassel for a casual evening.
Another trend is the shoes with laces, already seen in summer sandals version of the slave, while in invernal version laces longer inspired to 800 corsets. Sexy, but at the same time, fetish, dress well slender ankles and calves tapered and are comfortable with each look.
Boots
The trendy boots are famous cuissardes, high above the knee, python skin, latex paint, in the version with fur: wrap the leg making it super sleek and seductive.
The evolution of cuissardes will be fashionable next season, boots with classical vamp and soft leg like a sock, vinyl or stretch as used in the '90s, with square heel also in transparent or thin heel. They wear perfectly with longuette dresses and skirts or knee.
Hats and gloves
The trend hats this season are the Basques, the "painter's model", covered with studs, pins, buttons and pach prints. Then there are the  winter caps, those lowered up to his ears to keep warm your head especially when it is very cold. Cheerful, practical, unisex, look good on coats and quilts, with pom pom on top of the coarse blend or Peruvian style or mountaineer.
The new models of gloves, however, will lead to discoveries arms. Trend smooth ones, blacks or colored, with a pull-sleeved, long or up to the shoulder with the vest, it can also be worn under the coat: in this case, however, better to choose a shorter pair and with the decorated back fringed, jewelry or feathers.
Belts
Those winter 2015-2016 are rigid skin tone on tone and close with a knot on the coat or sull'abito solid. If you have a narrow waist, try to make them do more turns around, you'll be even more fashionable.
Small accessories
Instead of the usual necklace, choose a fabric flower to enliven the sober gray jacket or to give another aspect to the little black dress. The dimensions are big, but the effect is insured!Another great classic back on the catwalks is "the brooch grandmother", choose it and take great day, well in evidence on the collar of his coat or appuntala on a short cape or a wool Capellino.
Gallery
Fringe Is One Of The Biggest Trends Filling The New York …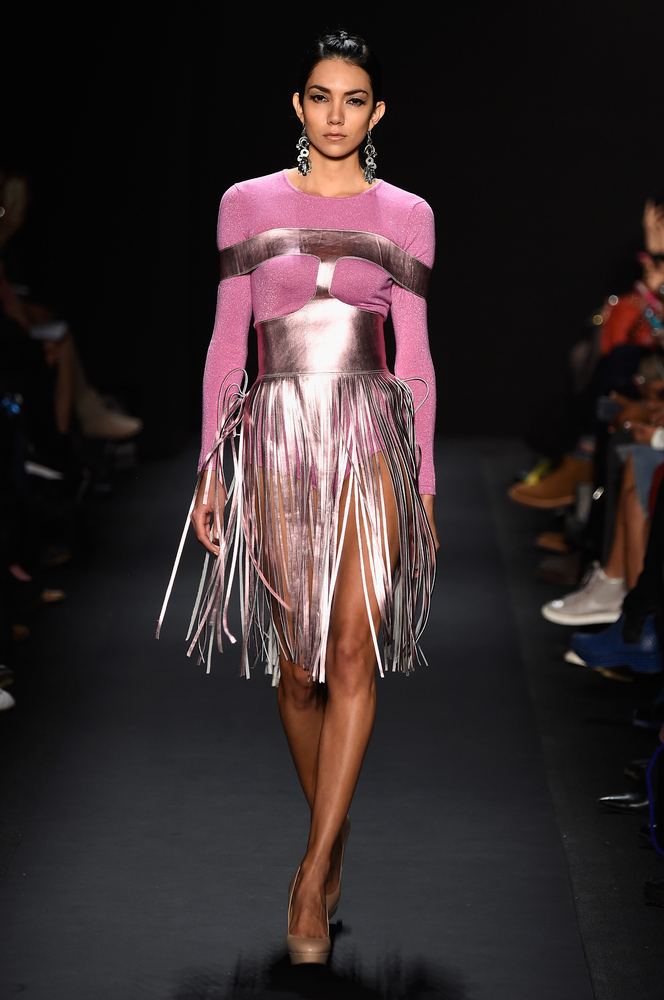 Source: www.huffingtonpost.com
Marchesa Fall 2016 / Winter 2017 Wedding Dress Collection …
Source: www.youtube.com
Looking Masculine in Florals? Yes You Can! Here Is How …
Source: www.royalfashionist.com
Gucci
Source: theimpression.com
Explopre the Winter: This is UGG Winter 2015 – NAWO
Source: www.nawo.com
Rihanna and Cara Delevingne pushed around Chanel PFW …
Source: www.dailymail.co.uk
toy-story-4-2015
Source: www.fashionstylestrend.com
H & M Women Clothing 2015 – Fashion Fist (1)
Source: fashionfist.com
WOMEN DENIM BLOUSES JUMPSUITS VESTS BLAZERS SPRING 2015 …
Source: www.lifeandtrend.com
Katy Perry Wedding Dresses 2015 New Look
Source: www.fashionfist.com
Lingerie Nude Models Stock Photos and Pictures
Source: www.gettyimages.co.uk
Pantone The 20th Century In Color; 100 Years of Color
Source: www.pantone.com
Tuesday Ten: The Chicest Fall Coats
Source: laurenconrad.com
Nishat Linen Nisha Fall/Winter dresses collection 2015-16
Source: www.aletere.com
Street style
Source: blacksheepme.com
Fausto Puglisi 2015-2016 Fall Autumn Winter Womens Runway …
Source: www.denimjeansobserver.com
Tuesday Trendday: 70's style
Source: midtownmagnoliablog.com
全智賢、范冰冰示範Adidas Originals入秋運動穿搭!
Source: www.elle.com.hk
Pantone CMYK Color Guide Coated & Uncoated Guide Set
Source: www.pantone.com
Long Cardigan Sweaters Outfits
Source: fremode.com